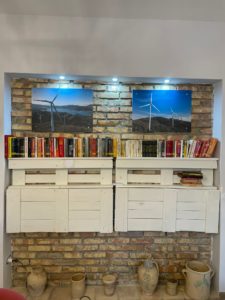 One of our former offices in Italy is now home to the town library after a joint community initiative to breathe new life into old buildings.
We've been working with the Municipality of San Sostene in Southern Italy, where our 43 turbine wind farm is located, and a local group of retired people to refurbish the building and transform it into a public library.  We've donated building materials from our warehouse and repurposed unused office furniture while books have donated by members of the public and local organisations.
The next stage of the project is to install an "Energy Laboratory" – an exhibition to raise awareness of renewable energy, especially amongst young visitors to the library.  Old equipment and material from some of our wind farms will be on display.
The initiative is also creating jobs with a local cooperative being taken on to manage the library.  We're delighted to have been able to help deliver such a worthwhile project which will benefit the whole community whilst also helping educate people about the benefits of renewable energy.