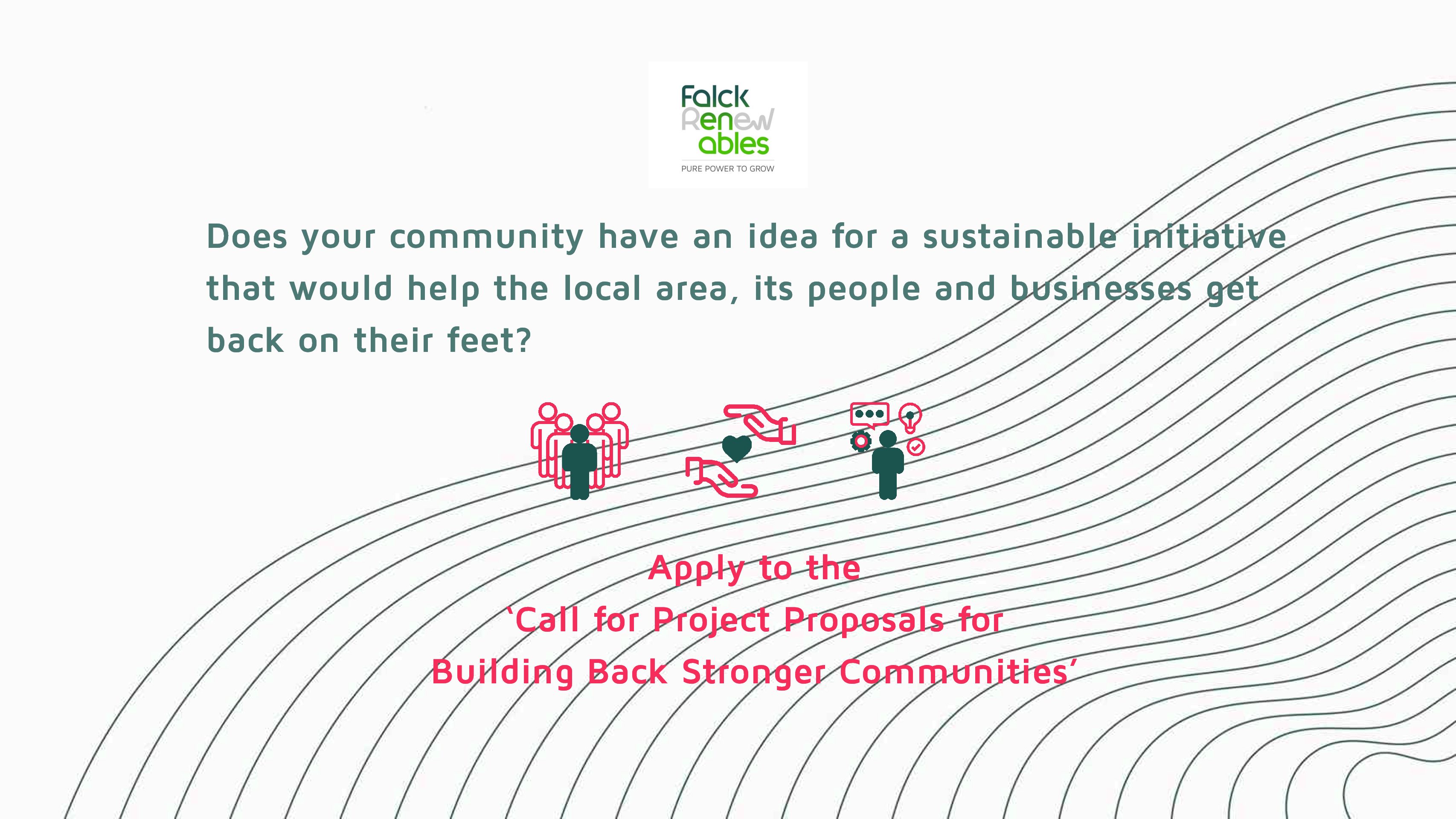 HEARING FROM YOU ALL OVER THE PAST FEW MONTHS WE REALISE THAT THERE IS STILL A NEED FOR SUPPORT IN THE COMMUNITIES AROUND OUR WIND FARMS AS WE GRADUALLY EMERGE FROM THE PANDEMIC. DOES YOUR COMMUNITY HAVE A NEW IDEA FOR A SUSTAINABLE INITIATIVE THAT WOULD HELP THE LOCAL AREA, ITS PEOPLE AND BUSINESSES GET BACK ON THEIR FEET?
TELL US ABOUT IT FOR THE CHANCE TO RECEIVE UP TO £5000 TO HELP MAKE IT A REALITY.
We're looking for innovative projects that can really help make a difference to the quality of life in your area as we keep adjusting to life living with Covid19.  They can cover anything from education and health and wellbeing to energy sustainability and fighting climate change. And more!
Perhaps you have a great idea for a project which would deliver sustainable mobility while protecting against Covid19; a plan for using digitalisation to enable better business/life/social cohesion; or a need for equipment or training which could spark local entrepreneurial skills or support sustainable businesses. Tell us more in the application form and send it to us with any supporting information by 11 October.
The winners will be announced in Mid November 2021.
HOW TO APPLY
Applications must be submitted by completing the: ONLINE APPLICATION FORM
TIMELINE
30 July 2021 – Launch of the Programme
11 October 2021 – Last date for submission of applications
15 October 2021 – Judging applications/submissions
Mid November 2021 – Announcement of awarded projects during the 4th Falck Renewables Sustainable Community Forum
ELIGIBILITY CRITERIA & GENERAL RULES
Each community benefit fund or cooperative can enter up to three projects using the form below
Up to 80% of the cost of each winning project (up to £5,000) will be financed by Falck Renewables
The project should:
– be located within the geographical area covered by the wind farm community benefit fund
– be aligned with as many of the United Nations' Sustainable Development Goals (SDGs) as possible. Find out more about the SDGs here
– have a start date of within 12 months of the application to the competition and have demonstrated results within a further 12 months
– be supported by the local community
– be able to be evaluated to measure its success
The applications will be judged by a panel made up of Richard Dibley, Managing Director, Falck Renewables Wind Limited, Alessandro Costa, Head of Sustainability and Erin Murchie, Community Relations Manager UK