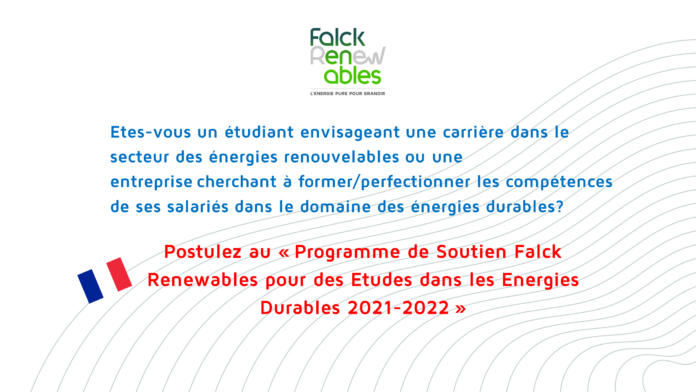 Today we launch the First Falck Renewables Student Support Scheme for Renewable Energy Studies/Training in France.
We believe in nurturing talents and we are committed to supporting young people develop professional skills related to the renewable energy sector.
Similar to the Student Support Scheme we have launched in UK, Sweden and Spain, students living around our wind farms in France can apply to receive financial support. The available annual fund will be given to applicants studying for a qualification exclusively in renewable energy related courses and will cover expenses related to travel and commuting costs, training materials, internet connection and equipment.
For more information, please download the poster of the Support Scheme for Sustainable Energy Studies 2021 – France and apply through the online application form.
---
Aujourd'hui Falck Renewables lance le premier Programme de soutien pour les étudiants dans les énergies renouvelables, en France.
Nous croyons au développement des aspirations et nous sommes engagés à supporter les jeunes à développer des compétences professionnelles dans le secteur des énergies renouvelables et durables.
À l'instar du Programme de soutien aux étudiants que nous avons lancé au Royaume-Uni, en Suède et en Espagne, les étudiant(e)s résidant sur les communes d'implantation de nos parcs éoliens en France peuvent postuler afin de bénéficier d'un soutien financier. Le fonds annuel disponible sera attribué aux candidat(e)s suivant un parcours qualifiant dans le domaine, exclusivement, des énergies renouvelables, et couvrira des dépenses liées aux frais de déplacements/transports, au matériel de formation, à la connexion internet et à d'autres équipements.
Pour plus d'informations, veuillez télécharger l'affiche du Programme de Soutien pour des Etudes dans les Energies Durables 2021-2022 – France, et postuler via le formulaire de candidature en ligne.