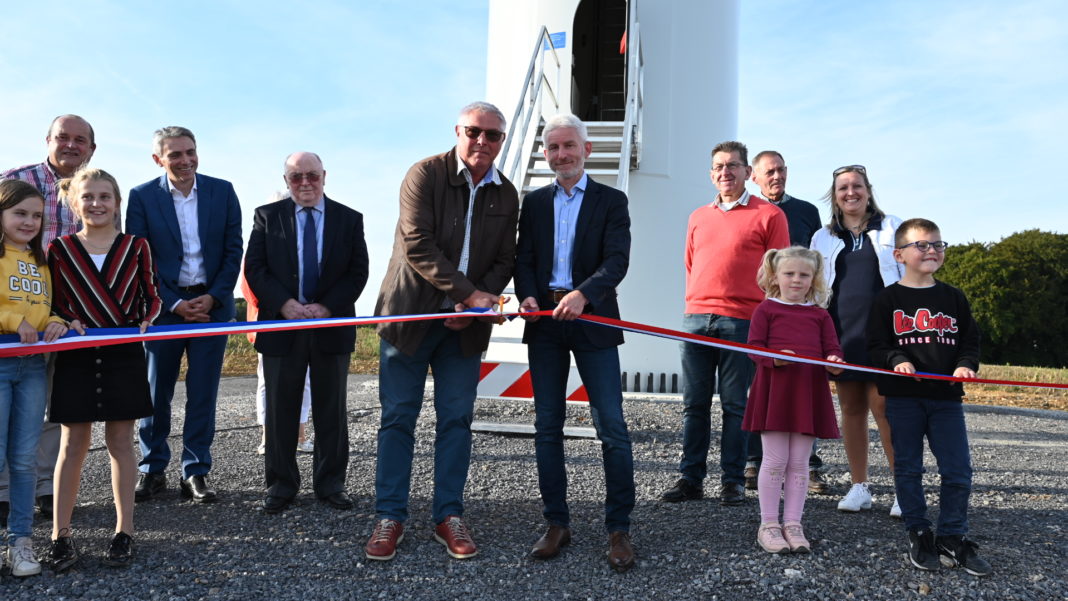 Falck Renewables officially opens its new wind farm in Illois, Seine-Maritime department, France.
Local politicians, and representatives of community group Association Bien Vivre à Illois who will administer the community benefit fund joined Falck Renewables' representatives at yesterday's opening ceremony.
"We are proud to keep growing in France, with the official opening of our tenth French wind farm and an overall capacity of 110 MW installed in the country", said Bertrand Le Mouëllic, Falck Renewables' Country Manager in France. "While developing and constructing the wind farm we looked carefully at the specific environmental and social needs of the area to ensure they were integrated in a sustainable way into our plans. The input of the Mayor and the local community was invaluable and we thank them and look forward to working together and supporting each other in the coming years."
As part of the community benefit scheme agreed with Association Bien Vivre à Illois, Falck Renewables will provide an annual sum for local projects in the fields of sustainable development, education, culture, sport, leisure, and the promotion of the municipality of Illois.
"We are glad to partner with Falck Renewables on a community benefit scheme that will enable us to restore the entrance hall of the association's building, to install picnic seats and tables, and build a playground and a pétanque ground", said Jean-Baptiste Quesada, President of Association Bien Vivre à Illois.
---
Falck Renewables a inauguré son 10ème parc éolien en France
Un site en avance en matière de partage de la valeur énergétique avec les citoyens 
Falck Renewables a officiellement inauguré un nouveau parc éolien sur la commune d'Illois en Seine Maritime.
Le Maire de la Commune Bernard Haudiquert et le Président de la Communauté de Communes Aumale Blangy, Christian Roussel ont assisté hier à l'inauguration. Les membres de l'Association Bien Vivre à Illois, qui portera les projets financés par le Fonds de Partenariat Territorial, étaient également présents.
« Nous sommes fiers de poursuivre notre croissance en France, avec l'ouverture officielle de notre dixième parc éolien français et une capacité globale de 110 MW installés dans le pays », a déclaré Bertrand Le Mouëllic, Responsable de la filiale française de Falck Renewables, Falck Energies Renouvelables. « Lors du développement et de la construction du parc éolien, nous avons examiné attentivement les besoins environnementaux et sociaux spécifiques de la région pour nous assurer qu'ils étaient intégrés de manière durable dans la construction. La contribution de la mairie d'Illois a été inestimable et nous les en remercions. Nous nous réjouissons de travailler ensemble et de pouvoir continuer dans les années à venir.»
Dans le cadre d'un partenariat territorial avec l'Association Bien Vivre à Illois, Falck Renewables subventionnera chaque année des projets locaux dans les domaines du développement durable, de l'éducation, de la culture, du sport, des loisirs ou encore de la valorisation de la commune d'Illois.
«Grâce au Fonds de Partenariat Territorial mis en place avec le parc éolien, nous prévoyons de restaurer la salle du foyer rural, d'installer des tables de pique-nique, une aire de jeu pour les enfants ou encore un terrain de pétanque » a précisé Jean-Baptiste Quesada, Président de l'Association Bien Vivre à Illois.