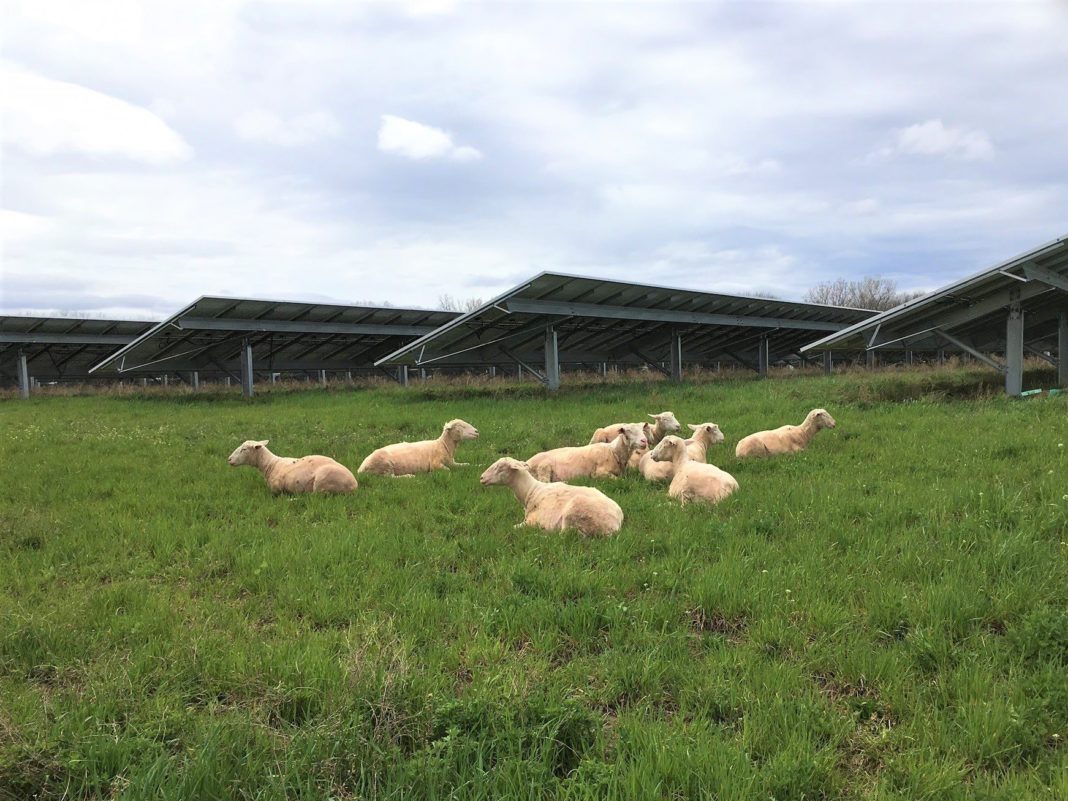 Falck Renewables and the Institut De L'Elevage (IDELE) – a leading voice in the French agriculture industry – have signed a partnership agreement to collaborate on the development of agrivoltaic projects across France.  
This partnership will allow Falck Renewables to benefit from best practice and insights in the agriculture sector to apply in its agrivoltaic projects, optimizing the dual purpose from the earliest stages in development.  
IDELE will use data from the agrivoltaic projects to feed into its agronomic research to further develop its understanding of the benefits of combining energy production with agriculture. 
Falck Renewables' framework of agrivoltaic projects aims to create a synergy between agricultural activity and the production of renewable energy, optimizing the use of existing agricultural land, by designing a project comfortable for the farmer, the cattle and for the quality of vegetation. This partnership will explore the benefits that the agricultural world can extract from this new practice, while considering the core needs of both the farmer and the energy developer. The research will consider the opportunity to diversify farms' incomes, while considering the wellbeing of animals and protecting the environment. 
"This partnership with IDELE will allow us to work in a qualitative way by taking into account the expectations of the breeding sector to deploy agrivoltaic projects that correspond to the needs of farmers," explains Bertrand Le Mouëllic, Head of Falck Renewables France. 
For Jérôme Pavie, Head of the Forage and Pastoralism Department at the Institut De L'Elevage (IDELE), commened: "IDELE's partnership with Falck Renewables France is in line with our mission, and will support our search for answers to the technical, economic, social and environmental questions posed by this new form of energy.  
Agrivoltaics is an opportunity to diversify livestock farms and consolidate their technical and economic results, with importance placed on maintaining the balance between agricultural production and energy production." 
This initiative aims to continue in the long term for a better understanding of the agrivoltaic issues. "The purpose of this collaboration is to strengthen the mutual trust between the agricultural world and the energy world, furthering the benefits to the agriculture sector while keeping the farmer's voice at the heart of what we do," says Bertrand Belben, Development Director of Falck Renewables France. 
The first projects are already in development. 
---
Falck

Renewables

et l'IDELE signent une convention de partenariat pour un développement vertueux de l'

agrivoltaïsme

en France

 
Falck Renewables et l'Institut de l'Elevage (IDELE) ont signé une Convention de partenariat sur le développement de projets agrivoltaïques.  
Cette convention a pour objet de mettre en place des missions d'accompagnement, de conseil et d'études de la part de l'IDELE pour l'entreprise Falck Renewables dans le cadre de ses projets agrivoltaïques en France.  
Par ce travail en partenariat, Falck Renewables souhaite contribuer aux bonnes pratiques mises au point par la filière de l'élevage. L'agrivoltaïsme est avant tout un projet agricole qui vise à créer une synergie entre l'agriculture et la production d'énergie renouvelable. Par ce travail en commun, l'objectif est de mettre en exergue les avantages et bénéfices que le monde agricole peut tirer de cette nouvelle pratique telle que le bien-être animal ou la protection de l'environnement. 
"Ce partenariat avec l'IDELE nous permettra de travailler de manière qualitative en prenant en compte les attentes du secteur de l'élevage et de déployer des projets agrivoltaïques qui correspondent aux besoins des agriculteurs", explique Bertrand Le Mouëllic, Responsable France de Falck Renewables. 
De son côté l'IDELE pourra bénéficier de retours d'expériences essentiels pour la recherche agronomique appliquée à l'agrivoltaïsme. Pour Jérôme Pavie, responsable du service Fourrages et Pastoralisme de l'Institut de l'Elevage et en charge de la thématique agrivoltaïsme, "le partenariat d'IDELE aux cotés de Falck Renewables s'inscrit dans les missions de l'Institut de l'élevage et la recherche de réponses aux questions techniques, économiques, sociales et environnementales posées par cette nouvelle forme d'énergie. L'agrivoltaïsme est aussi appréhendé comme une opportunité de diversification des élevages, de consolidation de leurs résultats techniques et économiques, sous réverse bien sûr qu'il s'inscrive dans de véritables projets agricoles, d'en maitriser le développement, et les équilibres de production agricole/énergie ". 
Cette initiative a pour but de durer sur le long terme pour une meilleure appréhension des enjeux agrivoltaïques. "Le développement de ces projets devra se faire avec les agriculteurs dans un intérêt commun et partagé, c'est tout l'objet de cette démarche afin de renforcer la confiance mutuelle entre le monde agraire et celui de l'énergie", précise Bertrand Belben, Directeur du Développement de Falck Renewables en France. 
Des premiers projets agrivoltaïques qui sont déjà à l'étude feront l'objet de dépôt de demande de permis de construire par le groupe en 2023.