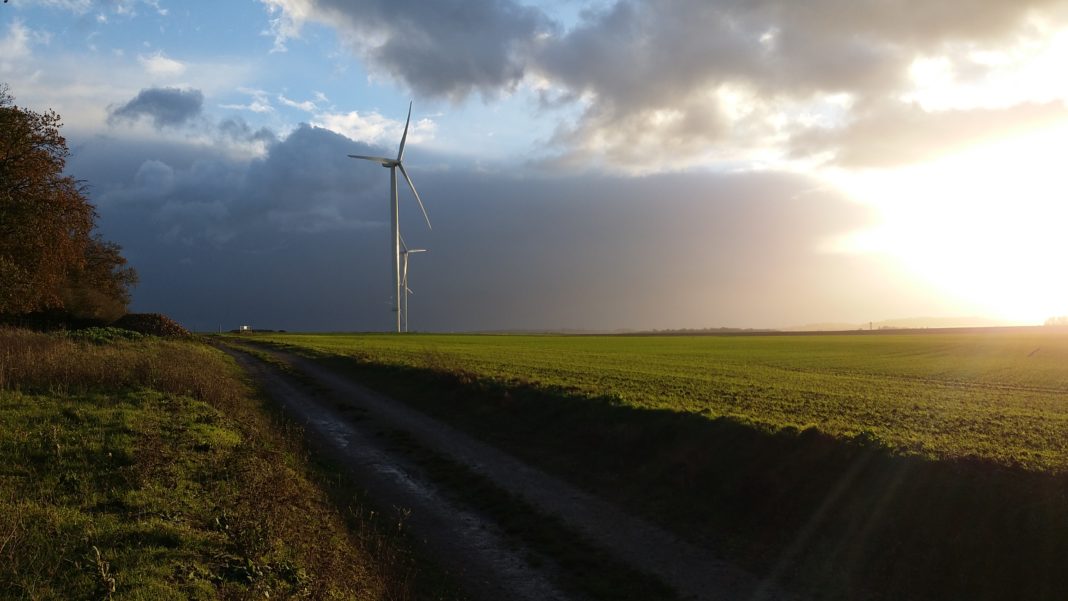 Travailler avec le tissu économique local
Nous exploitons le parc éolien de Breteuil-Esquennoy dans l'Oise depuis 2009. Constitué de 5 éoliennes Nordex 90 et pour une puissance installée de 12,5MW, il fournit l'équivalent de la consommation en électricité de 6600 foyers.  
Les installations nécessitent régulièrement des travaux et vérifications, autant au sein des machines qu'aux abords. Des entretiens paysagers sont notamment nécessaires afin de maintenir un accès facile pour entrer dans les éoliennes.  
Depuis deux années, nous avons décidé de confier ce travail à une association locale d'inclusion sociale : Fil Multiservice [https://www.filmultiservices.com/ ], basée à Breteuil. Cette structure d'insertion par l'activité économique, accompagne une centaine de personnes par an pour un volume de 30 000 heures de travail.  
Grâce à sa mission, cette association permet à des personnes éloignées de l'emploi de "travailler sur un projet professionnel, d'être accompagné vers l'emploi avec une formation à la clé" précise Guy Fourmaux, le directeur de Fil Multiservices. L'objectif de l'association est d'être un passage vers un emploi stable. 
Ainsi, l'entretien paysager de l'installation qui a lieu deux fois par an, permet de travailler sur l'autonomie des personnes accompagnée. C'est la première fois pour l'association que ce type de mission est effectuée sur un parc éolien.  
Cet exemple est la preuve que le partage de la valeur peut avoir lieu sur de nombreux aspects grâce aux ressources du territoire et sur l'ensemble de la durée de vie d'une installation d'énergie renouvelable. Nous tenons à remercier l'association Fil Multiservices pour son travail sur notre parc éolien et à nos collègues de Vector Renewables à l'initiative de cette action. Nous avons la volonté d'étendre ce type de dispositif sur l'ensemble de nos parcs avec de futurs partenaires. 
Shared value through wind power and social inclusion collaboration
We have operated the Breteuil-Esquennoy wind farm in the Oise region of France since 2009 and, like all wind farms, it requires regular checks and maintenance, both within the machines and in the land around them to maintain suitable access to the wind turbines.   
For the last two years, we have worked in collaboration with a local social inclusion association, Fil Multiservices [https://www.filmultiservices.com/, based in Breteuil, which assists around 100 people each year with over 30,000 hours of work.   
Thanks to its mission, this association helps people who are far from employment to "work on professional projects, as a gateway to stable employment", explains Guy Fourmaux, the director of Fil Multiservices.  
Two people working with the association completed the landscape maintenance of the facility, which takes place twice a year, building on autonomy and practical skills. This is the first time that the association carried out their initiative with work on a wind farm, to great success.   
Nicolas Thelliez, Community Relationship Manager, France at Renantis, said: "Sharing value with our communities is at the core of the work that we do, and this initiative is proof that the benefits to communities can take many shapes and forms. It's also great to see value being created for communities throughout its lifetime.  
"We would like to thank Fil Multiservices for their work on our wind farm and our colleagues at Vector Renewables for facilitating this initiative."  
We intend to extend this initiative to other wind farms with future partners.  
About Breteuil-Esquennoy wind farm
The wind farm consists of 5 Nordex 90 wind turbines with an installed capacity of 12.5MW and provides the equivalent of the electricity consumption of 6,600 householders.