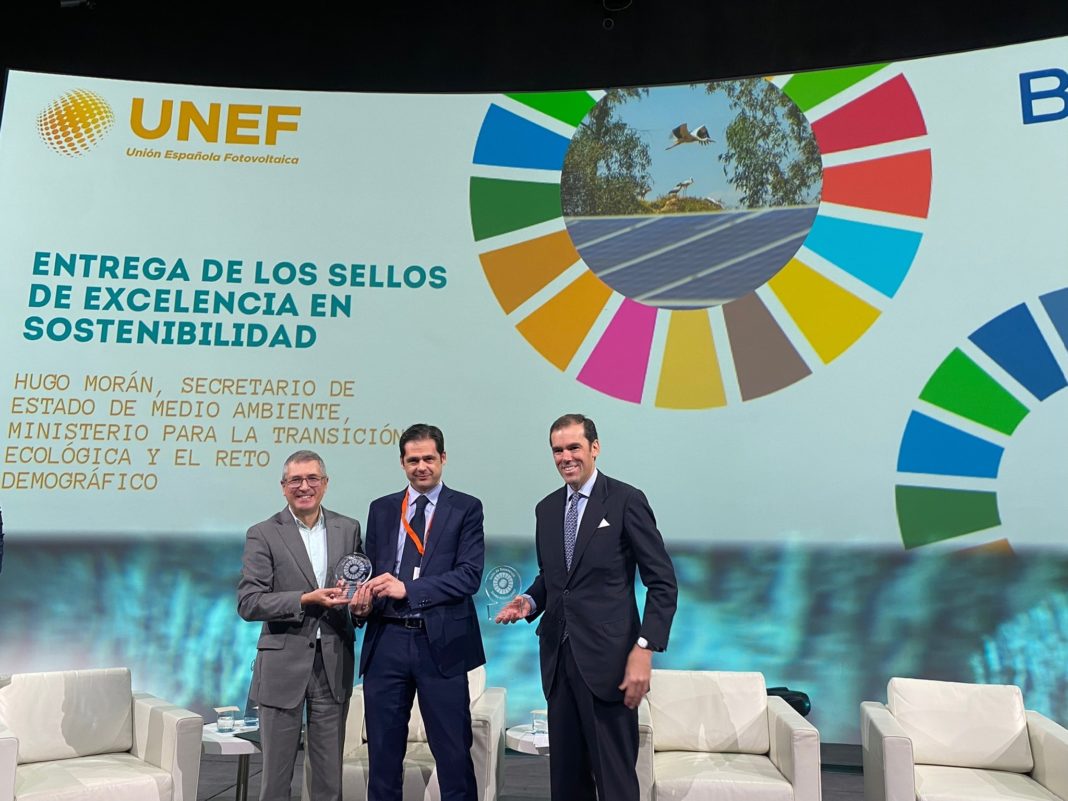 Hace un año Falck Renewables – Renantis recibía una nueva certificación en calidad y sostenibilidad en España, siendo la primera empresa en este país en alcanzar este certificado. Se trata de los Certificados de Excelencia en Sostenibilidad y Conservación de la Biodiversidad  e inauguramos 2023 con la obtención de este sello para dos nuevas plantas: las plantas fotovoltaicas en desarrollo de https://camposalados.es/ – en Comunidad Valenciana – y https://camposzuloaga.es/ – en Comunidad Foral Navarra -.
El sello, impulsado por la Unión Española Fotovoltaica (UNEF), reconoce los proyectos de plantas solares en suelo planteados con los más altos estándares de integración social y ambiental. Para el equipo de Falck R. – Renantis en España es un compromiso firme certificar toda su cartera de desarrollo en el país, demostrando así su apuesta por la instalación de proyectos de energía verde y limpia que se ajusten y encajen, de la mejor forma posible, en la vida del municipio que lo acoge. Hasta la fecha, ya son tres los proyectos que cuentan con este reconocimiento a la calidad en biodiversidad, sostenibilidad y compromiso social.
En este sentido, nuestros proyectos están diseñados para poder compatibilizar la generación de energía limpia con cultivos locales que, entre otras ventajas, fomentan el doble uso y aprovechamiento del suelo local. Además, permiten el pastoreo y garantiza la biodiversidad con el fin de mantener y/o incrementar la actividad agrícola local.
Todas estas propuestas se han detallado y contemplando en los criterios de adjudicación del sello; nuestro compromiso social con los municipios a través de varias iniciativas planificadas y ya puestas en marcha en otros municipios también ha sido evaluado durante este proceso.
---
Our Spanish development portfolio is certified in Sustainability: 2 new projects obtain EXCELLENCE IN SUSTAINABILITY certification.
A year ago Falck Renewables – Renantis received a new certification in quality and sustainability in Spain, being the first company in this country to achieve this certificate. It is the Certificates of Excellence in Sustainability and Biodiversity Conservation and we open 2023 with the obtaining of this seal for two new plants: the photovoltaic plants under development at https://camposalados.es/ – in Comunidad Valenciana – and https://camposzuloaga.es/ – in Comunidad Foral Navarra -.
The seal, promoted by the Spanish Photovoltaic National Association (UNEF), recognizes solar plant on ground projects designed with the highest standards of social and environmental integration. For the Falck R. – Renantis team in Spain, it is a firm commitment to certify its entire development portfolio in the country, thus demonstrating its commitment to the installation of green and clean energy projects that fit, in the best possible way, in the life of the municipality that hosts it. To date, there are already three projects that have received this recognition for quality in biodiversity, sustainability and social commitment.
In this sense, our projects are designed to make the generation of clean energy compatible with local crops which, among other advantages, promote the dual use and exploitation of the local soil. In addition, they allow grazing and guarantee biodiversity in order to maintain and/or increase local agricultural activity.
All these proposals have been detailed and contemplated in the criteria for awarding the seal; our social commitment to the municipalities through various initiatives planned – and already implemented in other municipalities – has also been evaluated during this process.